Chatom Union School District is continuing the quarantine group tracing approach to individuals exposed to COVID-19 in school. 
The Group Tracing Approach includes the following:
School-Wide Notification:
All reported cases will be posted on the Chatom Union website www.chatom.k12.ca.us by the end of the school day or as soon as possible.

Click on the green icon that reads "COVID-19 Updates" to review the reported cases. Cases posted include all positive confirmed cases for individuals who have been on campus within close contact of others during their infectious period.

The posting will identify the school and location of the reported case so everyone can determine if they or their child was in that area. If you have questions as to if you or your child were in the identified location contact the school office.
What to Do If Exposed to A Positive Case:
Quarantine is not required.

Students can continue to participate in extra-curricular activities.

Individuals, regardless of vaccination status, should get tested with at least one test

obtained within 3-5 days after last exposure. This is state recommended, not required.

If individual starts to show symptoms, whether they are vaccinated or unvaccinated, they should

stay home.
What to Do If Test Positive:
Notify Nancy Souza right away at nsouza@chatom.k12.ca.us or 209-664-8500

Isolate for 5 days

If symptoms are improving and there has been no fever for 24 hours.
If you have any questions, please contact Cherise Olvera at 209-664-8505 or Nancy Souza at 209-664-8500.
Thank you for your continued support as we work together to keep our schools safe.
In an effort to streamline communication, we have discontinued daily letters regarding exposures at school sites. This information will be posted Monday-Friday on the School Exposures page of the CUSD website.  As a reminder, if your student is symptomatic or positive please have them remain at home and contact your school site.
     Covid-19 testing is available Monday – Friday between 7:30am -8:30am at Chatom Elementary.  No scheduling is necessary drop-ins are welcome.
COVID-19 SCHOOL EXPOSURE INFORMATION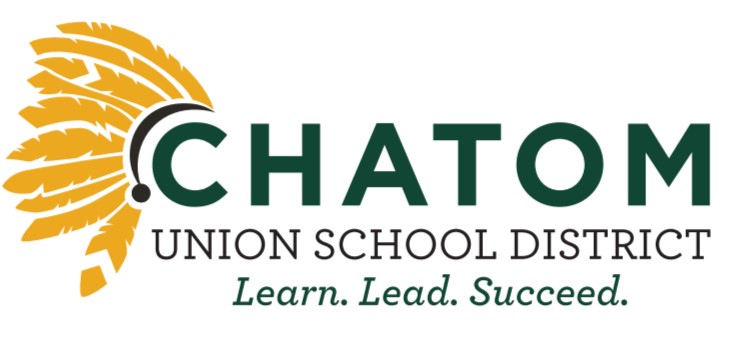 Please click on the dates under your school site's name for positive cases that have been reported, their last day on campus, and known location(s). Investigations may still be ongoing for newly reported cases.
September 25 - 29
Case 1
Last Day on Campus: 09/22/2023
Location: Room 11
Case 2
Last Day on Campus: 09/22/2023
Location: Transportation Department
Case 3 
Last Day on Campus: 09/26/2023
Location: Transportation Department
September 18 - 22
September 11 - 15
September 5 - 8
August 28 - September 1
Case 1
Last day on campus 8/25/2023
Location: Room 31
August 21 - 25
August 14 - 18
Case 1 
Last day on campus 8/14/2023
Location: Room 2
September 25 - 29
Case 1
Last Day on Campus: 09/22/2023
Location: Room 9
September 18 - 22
Case 1
Last Day on Campus: 9/18/2023
Location: Room 9
Case 2
Last Day on Campus: 9/15/2023
Location: Room 7
Case 3
Last Day on Campus: 9/15/2023
Location: Room 5
Case 4
Last Day on Campus: 09/18/2023
Location: Room 8
Case 5 
Last Day on Campus: 09/19/2023
Location: Room 11
September 11 - 15
Case 1
Last day on campus 09/14/2023
Location: Room 7
Case 2
Last day on campus 09/15/2023
Location: Room 6
September 5 - 8
Case 1
Last day on campus 09/01/2023
Location: Room 5
August 28 - September 1
August 21 - 25
Case 1
Last day on campus 8/18/2023
Location: Room 6
Case 2
Last day on campus 8/22/2023
Location: Room 7
August 14 - 18
September 25 - 29
September 18 - 22
September 11 - 15
Case 1
Last day on campus 09/15/2023
Location: Preschool AM/PM
September 5 - 8
August 28 - September 1
August 14 - 18
August 21 - 25